Hello dear bloggreader,
In my current tutorial I would like to show you how to photograph perfume as a more dramatic still life.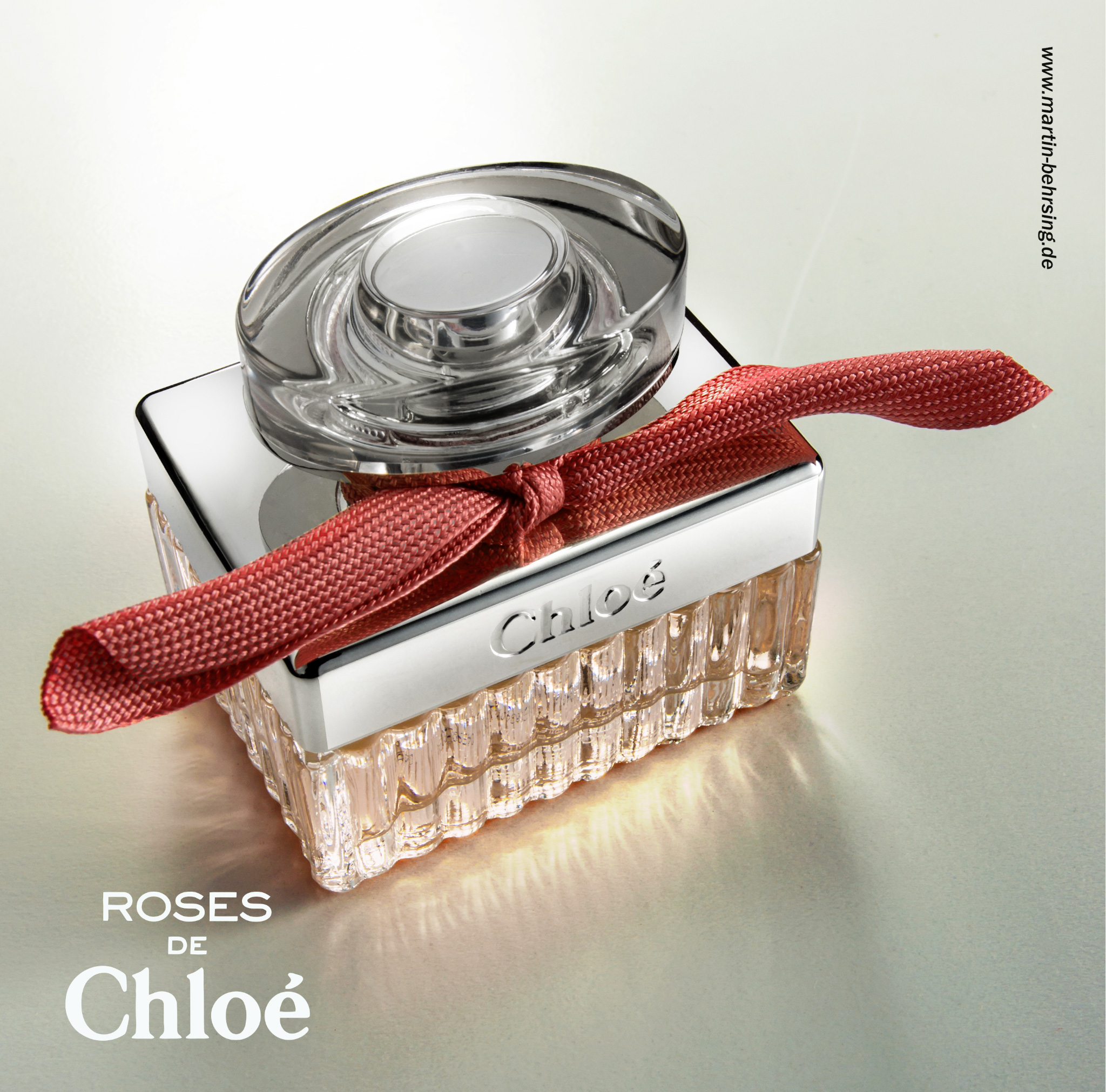 This picture was a part of the "Best Photos From Photigy Community Photographers, Showcase # 10" (https://www.photigy.com/best-photos-from-photigy-community-photographers-showcase-10/).
Drama in a picture can be if you shoot with a wide-angle objective. In this case the focal length was 23 mm. This creates a feeling that the object is right in front of you. Another point was to have sufficient light and shade. This could be accomplished by a very simple lighting setup and should be also work with only two normal lamps.
First I placed a light from the back so that the background was bright and in front of the bottle were beautiful shadows. This also resulted in a nice gradient from back to the front. In addition, the glassbottle was be worked out better.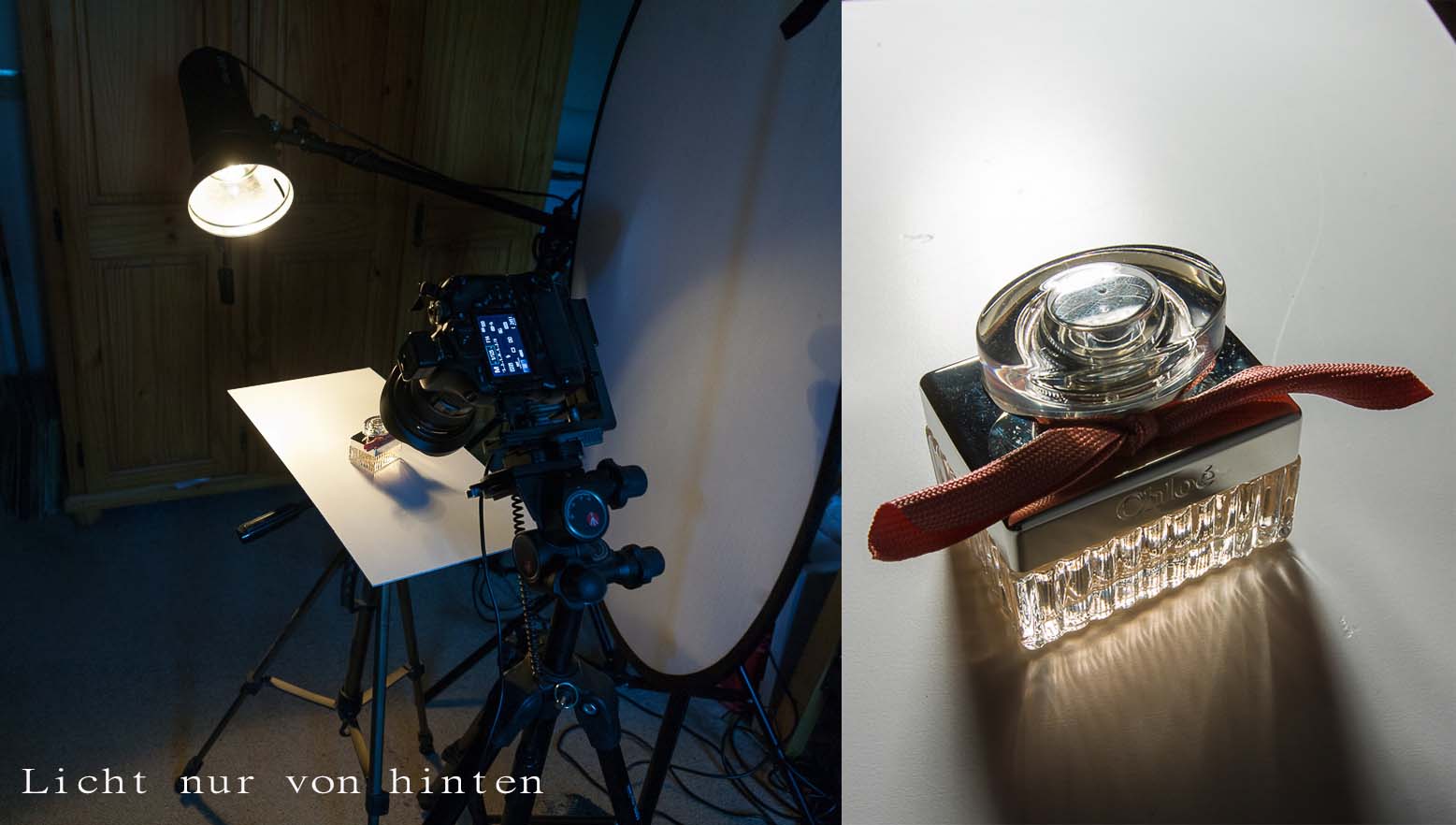 A disadvantage with reflecting surfaces is that they are always black in light, since highly reflective surfaces need something to reflect. I achieved this by putting a flash from the right side. A flash alone is not enough, since otherwise you get only a small spot light and the rest would b black. For this reason, a diffuser was placed here, in an angle to the object and directly at the flash. This increases the area to reflect and you got nice a nice gradient.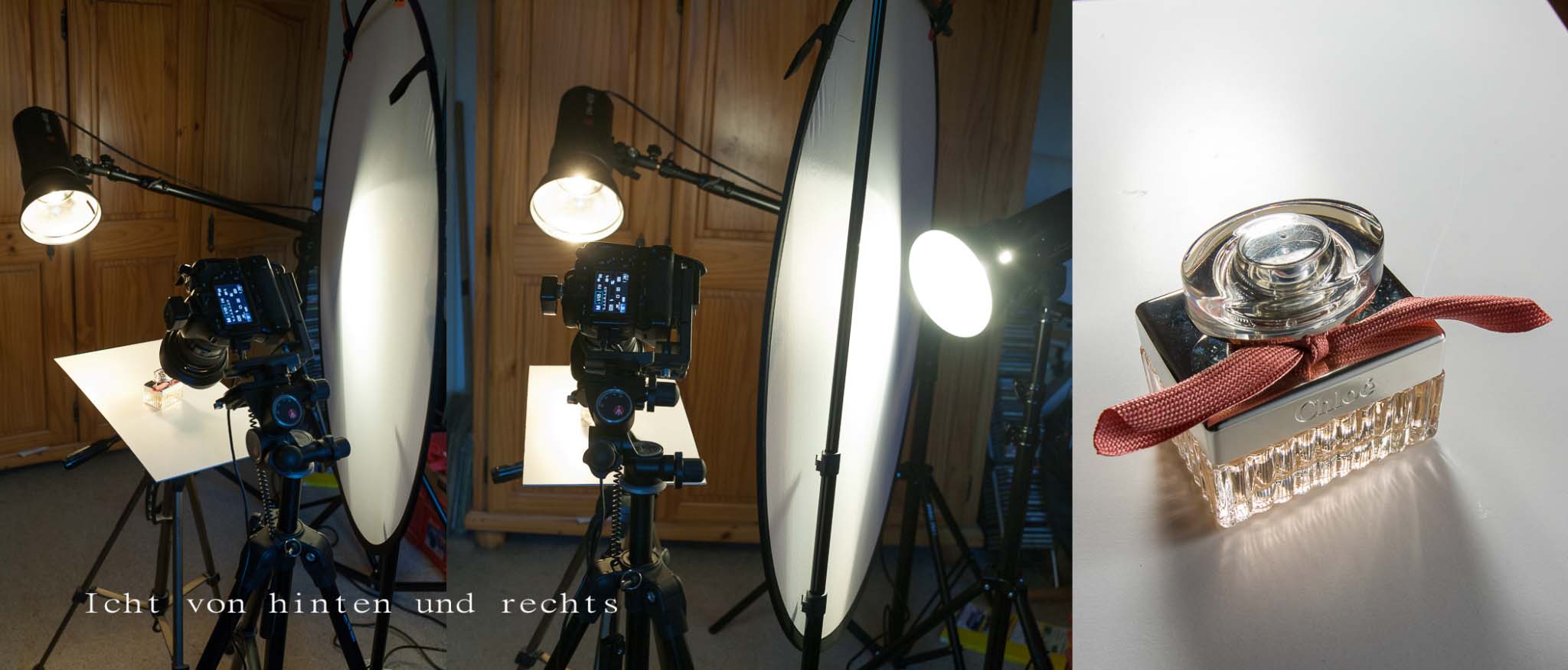 But the upper part of the perfume was very dark. I solved this with a small piece of "Savage Translum Diffusion" (in this case a piece of white paper also works also well) as a reflector over the perfume. You have to look through the viewfinder of the camera and move the diffuser until everything is right.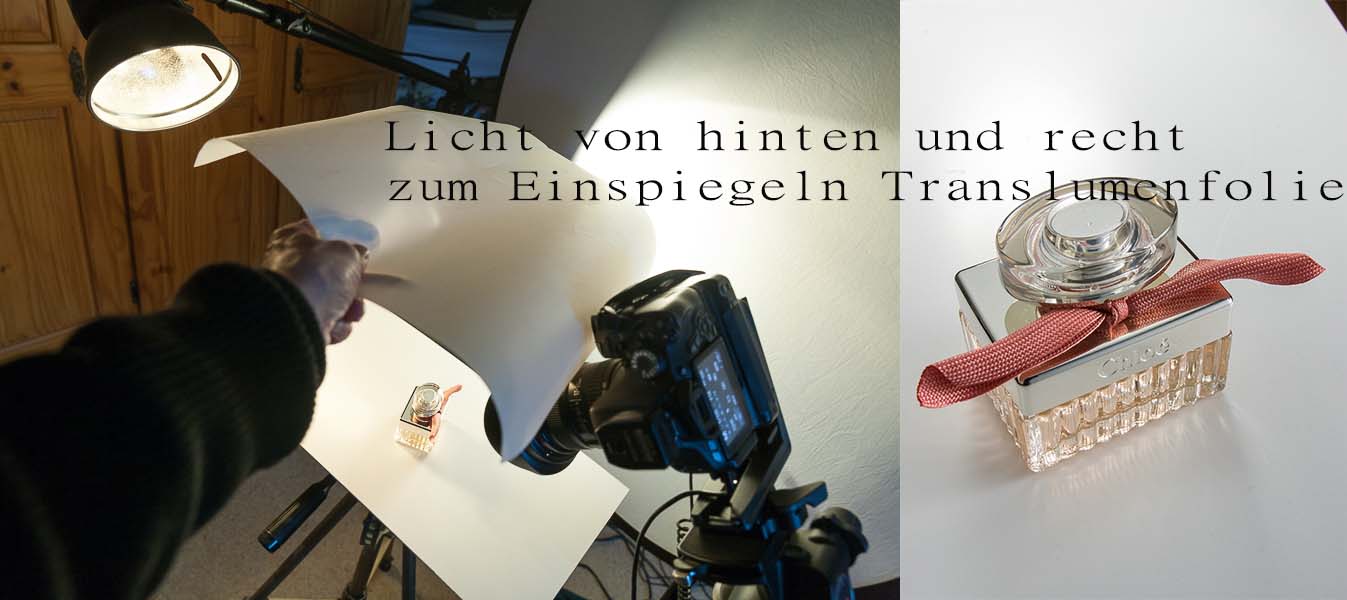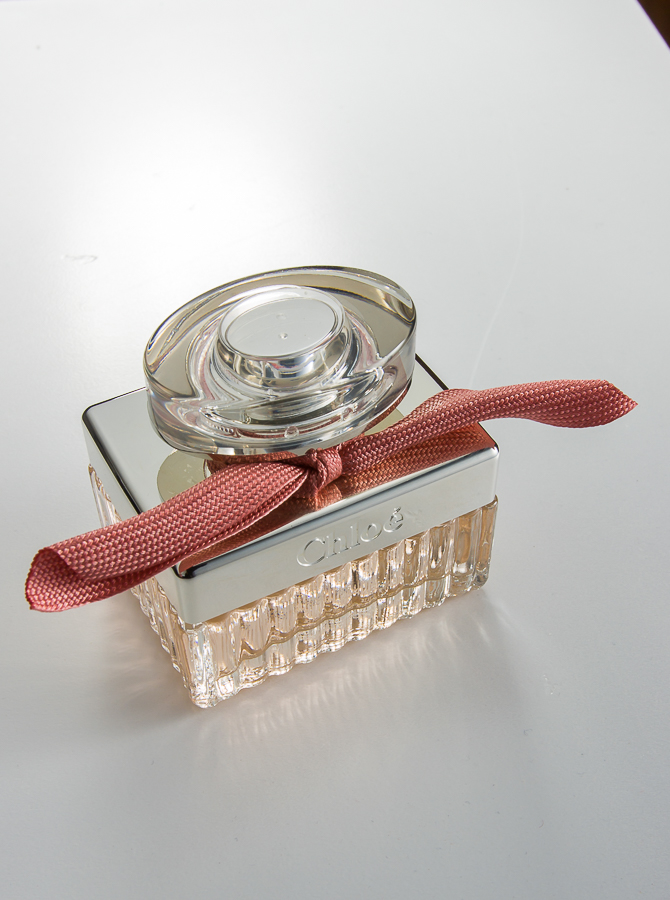 Of course every product photo has to be edited in Photoshop. Precisely because of the high resolution of digital cameras you can see every small dust particle and the finest scratches. This can be easily solved with the filter "dust and scratches", by only masking the spots, which must be repaired. Finally, a little Dodge & Burn… et voilà!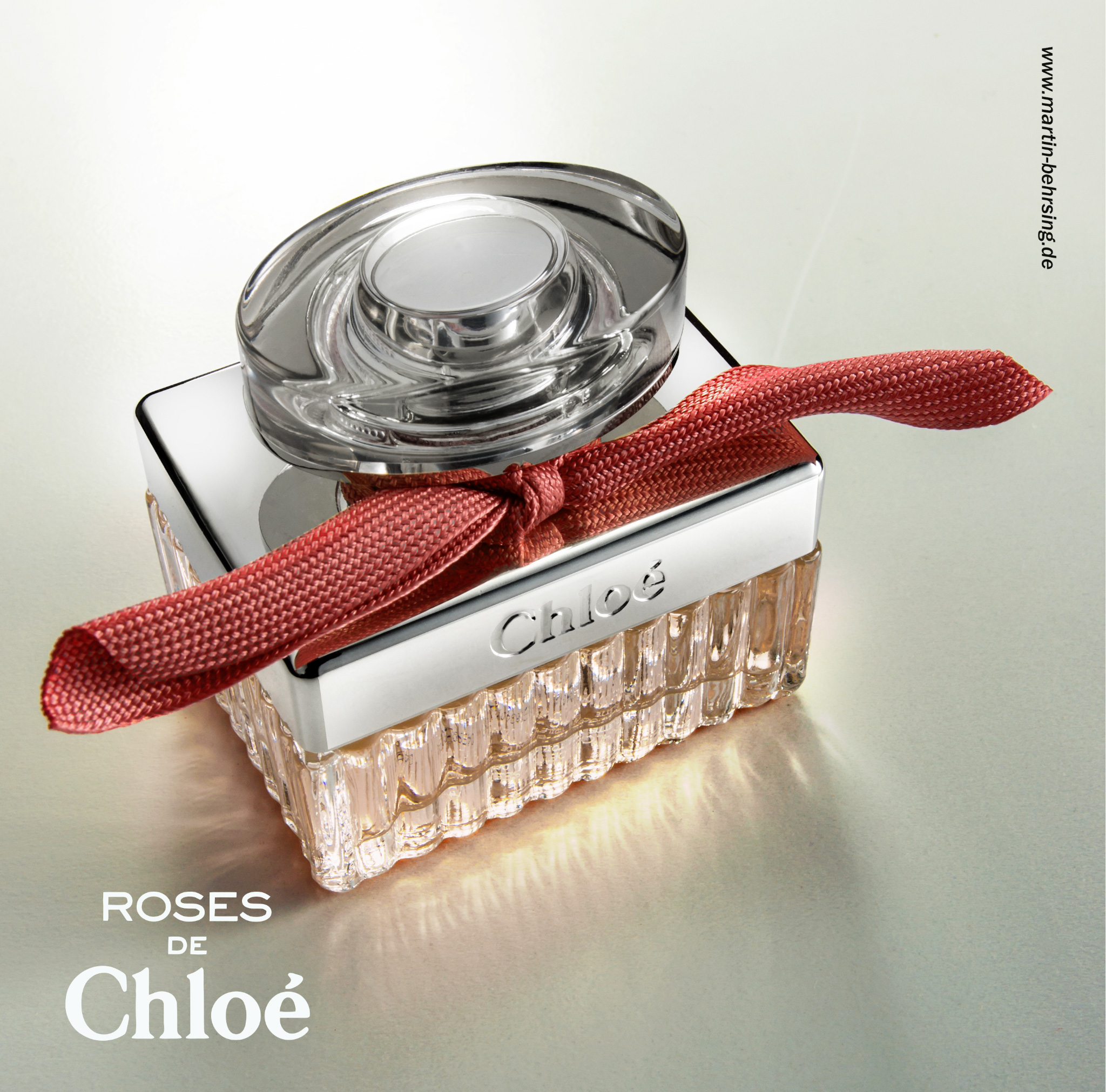 Thank you for reading. Have fun with dramatic photos.
Merken
Merken
Merken
Merken